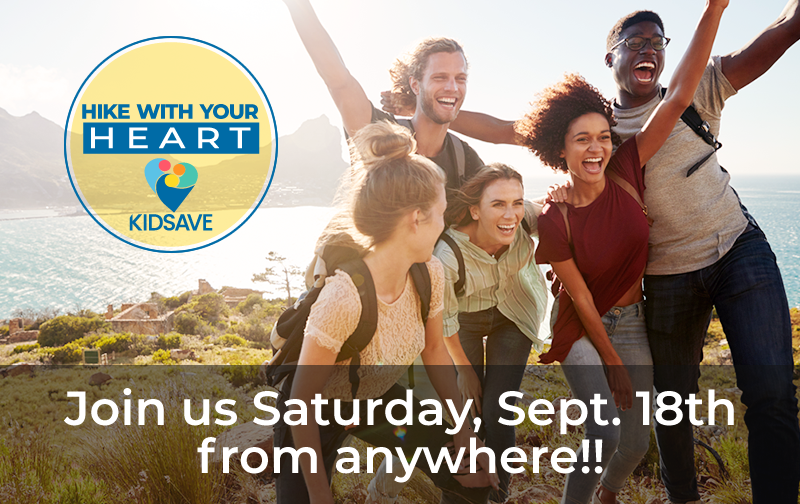 Hike With Your Heart – NATIONAL VIRTUAL EVENT
First Annual National VIRTUAL Kidsave Hike With Your Heart
Hike With Your Heart is a celebration of the outdoors and, for many participants, a way to spend time with the families they have grown from adopting or mentoring through Kidsave's incredible programs. People from across the nation will join us from their own towns and local parks as we hike to raise funds to support Kidsave's mission to find forever families for all kids, everywhere, which we have been doing since 1999.
The VIRTUAL NATIONAL HIKE – September 18th
1pm ET, 12pm CT, 11am MT, 10am PT
Hike With Your Heart is Saturday and we want to make sure you're ready for our LIVE virtual event on the Charge Running app. Follow these three easy steps:
1. Download Charge Running to your mobile phone:    Apple Download Android Download
2. Make sure you click this link (from your mobile device) to sign up on the app! https://charge.app.link/mGt9xFlE1hb
3. Use Code: KIDSAVE if prompted.
The hike opens 5 minutes prior to the start time, so be sure to hop in and share your pre-hike selfie and tell us where you're hiking from!! You choose your hike trail or walk route and you will be connected with other hikers in the Kidsave community all over the world!
Important Tracking Information:
For outdoor hikers, make sure your Wi-Fi is off and your Location Services are on.
For hikers joining from home, make sure you are connected to a strong Wi-Fi and you keep the phone on you (hand, pocket, armband, etc.)
Haven't reached your fundraising goal yet? You can invite your family and friends to watch you hike live (and maybe even have them pledge $$). Watch this video to get some Kilter app fundraising tips.
Can't join the LIVE event, the recording will be available for you to stream whenever you want in the virtual races section.
Share This