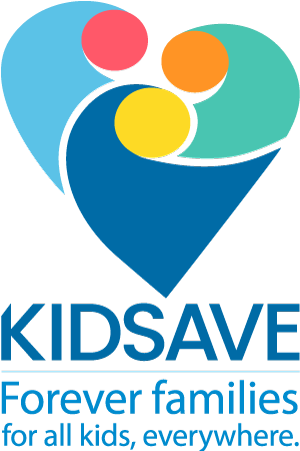 NEW LOOK.
RENEWED COMMITMENT.
For the past 22 years, Kidsave has been at the forefront of change in the child welfare system. Our innovative Family Visit Model continues to be a game-changer in giving older kids in care a chance, not only to find forever families, but also a voice and a choice in who that family is.
As we reflected on the challenges of this past year, we felt a renewed commitment in making sure older kids in foster care and orphanages around the world were not lost in the shuffle or forgotten. Our continued commitment led to further innovation with virtual connection events and sending urgent care packages and essentials to kids and families in need.
So as I looked at all Kidsave has achieved and all we want to achieve moving forward, it felt like the time was right to renew our commitment to older kids in care. Our new brand logo places our kids at the center of our hearts and surrounds them in love, support, and that all-important connection. We call it our "Connection Heart" as it represents a coming together of different pieces to form a lasting bond.
You'll also notice a gorgeous variety of colors used to reflect the diverse make-up of all the families we support. Our families come in all shapes, sizes, and different types: the championing host family, the guiding mentor family, and the adoptive forever family. We've always felt family consists of equal parts connection and commitment, not bound by blood but bonded by love.
We're excited to share the next phase of our journey with you and encourage you all to join us by becoming part of our community of champions for our kids. With your support, we can continue our life-changing work of finding forever families for all kids, everywhere.

Randi Thompson
Co-Founder and CEO| Adoptive Mom
Become a champion for kids!