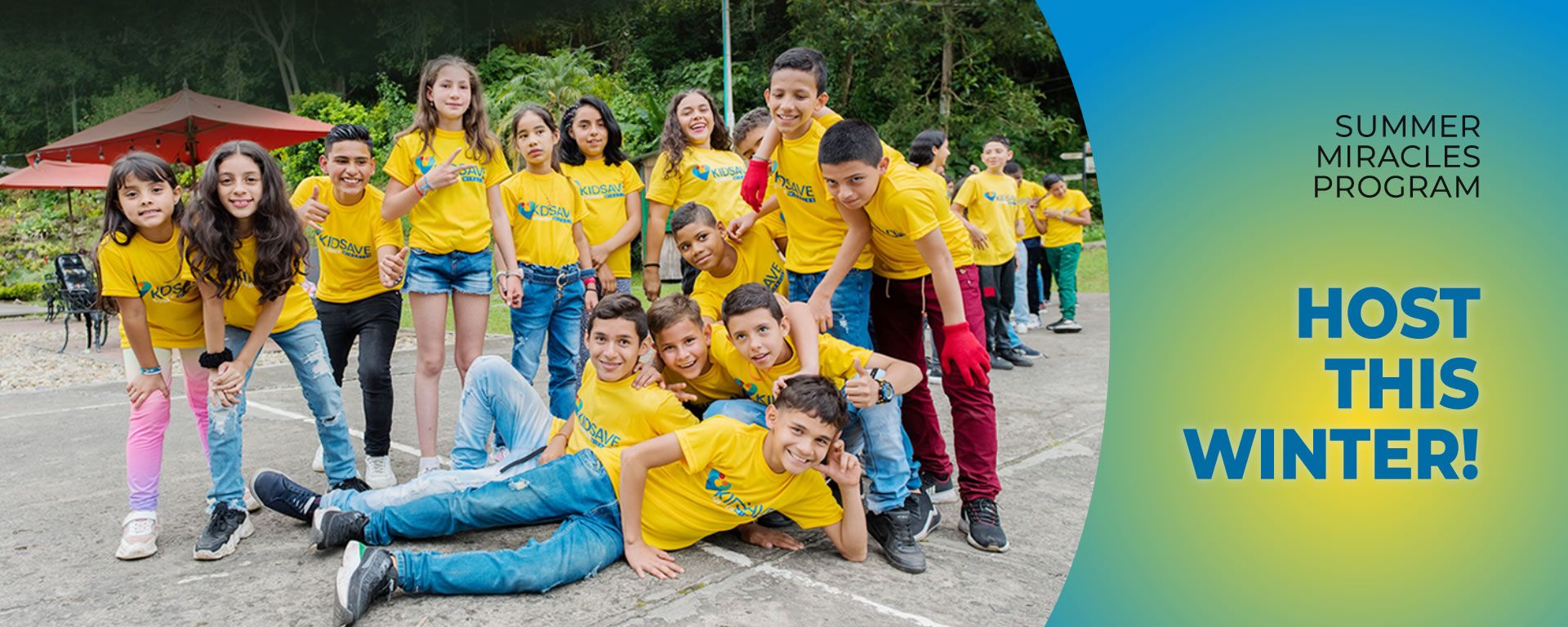 SUMMER MIRACLES PROGRAM
SUMMER AND WINTER HOSTING FOR INTERNATIONAL ADOPTION
Our Summer Miracles program gives older orphans (ages 11-14) who are overseas a chance at a family. With little likelihood of adoption in their own countries, our Summer Miracles kids travel to the U.S. for a memorable three week stay in December or five week stay over the summer.
How it works.
Children who are available for international adoption stay with you for five weeks in the summer (3 weeks if part of our winter program). While the kids are here, they learn about U.S. culture, attend summer camp, and experience life in an American family. You'll work with Kidsave staff and volunteers to help engage your local community to get to know the kids and find them an adoptive family. Many of our host families adopt the children they host.
Ways to get started.
Things to know.
If you are hosting with the intent of international adoption, you can host a child in your home anywhere in the U.S.
If you would like to start a Kidsave community in your region, here are the details.
If you are interested in learning about international adoption of a child from Colombia, please contact one of our Hague accredited agency partners.
PROGRAM DETAILS – INTERNATIONAL ADOPTION
Hosting is an active, fun experience which engages communities of like-minded people in support of a group of children finding families here in the U.S. through international adoption.
It gives people a chance to meet a child and helps people who are considering international adoption of an older child to determine if it's right for them. Regardless of whether a host adopts, they spend the summer advocating to find their host child an adoptive family. If their host child is a good fit, the child's host is given the priority for the adoption. If you are interested in adopting an older child, but not quite ready to take the plunge, Kidsave's Summer Miracles program is right for you!
To learn more about orphan hosting, watch the video below, which tells the story of how one family made a decision to host and adopt.
Sign up for an online webinar.

Complete the application. Link will be emailed after the application payment is made.

Contact the local Kidsave Agency Partner to begin your psychosocial study and clearances.

Complete Agency and Kidsave Training.

Prepare for the child's arrival and host!
Steps to Meet the Kids (when in the U.S.)
Attend Events
You can get started meeting kids with just a few steps.
Find 'Meet the Kids' (Advocacy) Events in your area in the Summer Miracles Events listings.
RSVP – Be sure to RSVP so we can expect and prepare for you.
Before attending you need to understand the following:

You may not talk with the children about their histories (these are private) or adoption.
Host families have the first right to adopt a child should that be a good match.
Host families or Kidsave staff are the only people who can take the children anywhere – across the street, to the bathroom, on an outing. Please feel free to engage in activities with the children at the events, but if a child has a particular need please alert hosts or staff.
A local coordinator will provide a quick review of the 'Do's and Don'ts for meeting the kids at the beginning of each event.
Please Note: If you are interested in international adoption and/or are traveling to attend, you may wish to complete the Visiting Family Application (see below) prior to coming. This is not required to attend an event, but is required if you wish to visit individually with any of the children, their hosts, or learn more about them.
You can see the kids, read their bio's and which communities they are visiting in the Gallery.
Have Questions? – complete our Inquiry Form and someone will call you.
---
Become a Kidsave Visiting Family
By becoming a Visiting Family you can interact with the kids and their host families outside the Kidsave events on a one-on-one basis. Our #1 priority is safety and the emotional and physical well-being of the children. We require prospective adoptive families interested in spending time with the kids to go through a screening and training process which pre-screens them for adoption requirements in Colombia.
The First Step is learning more about the program – either by reading or through our webinar.
Download and read the Visiting Family Packet. Required before spending one-on-one time with the kids and their hosts and hearing their story.
Attend the Visiting Family Orientation Webinar – Learn more about becoming a Kidsave Visiting Family.
Complete the Application
Visiting Family Application – it takes about 20 minutes to complete. Instructions and what information to gather are presented with the application.
Meet the Kids at an Event
Summer Miracles Events. If you can't find an event in your area contact us summermiracles@kidsave.org.
Schedule Special Time with a Child
Contact the Visiting Family Coordinator for your area (use the coordinator tab to the left) to set up visits.
Have Questions? – complete our Inquiry Form and someone will call you.
Costs of Hosting
Kidsave Costs
A non-refundable $275 application payment is due before submission of an application.
For Summer Miracles 2021, the hosting payment is $2,525. Half of the payment ($1262.50) will be due after your application has been reviewed and approved, the remaining balance will be due upon being matched with a child.
Both the application payment and hosting payment are tax deductible.
Kidsave may have a select number of scholarships available for advocate families for children who would not be able to travel otherwise. Scholarships are awarded based on need and the appropriateness of a family to host and advocate for available children. If you wish to apply for a scholarship, please email summermiracles@kidsave.org.
Agency Costs
Hosting requires that family complete a psycho-social study, obtain clearances, and complete training through one of our partner agencies. Agency costs vary by agency and state. Please contact the agency partner in your area. You can find a complete list of our agency partners
Partner Agencies
If our partner agencies do not have an office in your area, Kidsave will work with our agency partners to find an agency for you to work with locally.
Requirements for Hosting (in Kidsave Communities)
Hosts must be at least 25 years of age and no more than 45 years older than the child they are hosting.
Hosts and anyone over age 18 in their household must undergo a psychosocial home visit, fingerprinting/background check and child abuse clearances. Existing government clearances are not accepted.  Current home studies are usually accepted.
Host parents must complete a minimum of 10 hours of agency-required training as well as Kidsave's Orientation (online) and Program and Advocacy Training (in your community).
During the hosting period, host families are committing to:

Having a child in their home for four to five weeks
Attending advocacy events every weekend
Participating in two support sessions
Helping their community raise funds
Advocating for their host child to find a family interested in international adoption.
Note: Payments described above help support the operation of Summer Miracles all year round.
Adoption Grants
The Kidsave CMomA Grant Program's Objective is to give $20,000 in grants per year in financial support to eligible new parents adopting older (ages 2-17) or special needs children, both domestically and for international adoption. Learn More
These pages are password protected.
Derly Beacom learned early on to be self-sufficient. "Growing up in an orphanage in Colombia, I knew I had to take care of myself. In the orphanage, we had a very strict schedule, we had 15 girls staying in the same room, we had to wake up, do chores, attend school, and go to sleep at very specific times."
When Andrea first joined our Kidsave community, she wanted to make a difference by volunteering and providing care for LGBTQ+ kids growing up in foster care without a loving family. "I needed to give the support I wish I'd had growing up." Little did she know that this first step would set her on a path of changing lives, including her own.
We can't do this without you! Please get involved.
If you are interested in hosting a child, volunteering or starting a program in your city please use the links below.