84% of all funds expended by Kidsave go to program,
10% to management and finance and 6% to fundraising.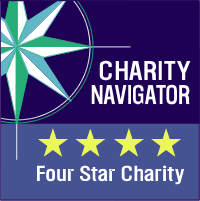 Charity Navigator is America's premier independent charity evaluator. Charity Navigator awarded Kidsave four out of a possible four stars. Receiving this recognition indicates that Kidsave adheres to good governance and other best practices that minimize the chance of unethical activities and consistently executes its mission in a fiscally responsible way. Please click on the logo to review our four star rating in a new window.

Kidsave is listed in the nonprofit information database hosted by GuideStar. To view our report, visit the GuideStar website and search for Kidsave using EIN: 91–1887623. Registration is required.
CHANGE A LIFE
Your gifts of time and money can transform the life of a child.
100% of your money goes directly to helping kids.
Learn more about where your money goes here.