For Immediate Release: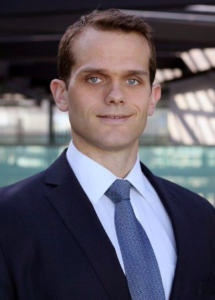 Washington DC and Los Angeles—Kidsave, an organization that advocates for change in child welfare systems so children can grow up in families and connected to caring adults, announces the appointment of Lambert de Ganay, to the Kidsave Board of Trustees' Associate Board.
Lambert de Ganay is a member of EY's Washington D.C. Forensic & Integrity Services Practice, focusing on investigations, compliance, anti-bribery and anti-corruption advice, and insider threat.  Before joining EY, Lambert was a Business Development Coordinator at DIA, (Development Alternatives Inc.) an international development consultancy firm in London.  He also worked for The Innocent Justice Foundation, which supports community organizations that rescue children from abuse, and has worked with Refugees International's Congressional Advocacy Department, promoting solutions for refugees and internally displaced people .
"At Kidsave we are increasingly engaging young people on our Associate Board who care about our mission and are willing to help us broaden our community reach through their networks, internationally and domestically," said Kidsave CEO, President, and Co-Founder Randi Thompson. "Lambert has displayed a steady passion for youth, international relations and community building throughout his career, and continues to help improve the lives of vulnerable children and communities."
Lambert de Ganay joined Kidsave because he believes that growing up in a caring and supporting home can help children realize their full potential.  "Orphaned children are some of the most vulnerable and at-risk people in the world, often suffering from neglect and abuse," de Ganay said.  "Kidsave is unique because they are working to address one of the toughest issues in adoption: the fact that older children, sibling groups, and those with special needs are continually left behind. Kidsave is breaking down the barriers that would have otherwise prevented older children from connecting to caring adults, experiencing family life, and meeting people who might adopt them. I am grateful to have the opportunity to help children meet people that will love and support them, just as my friends and family have done for me."
Lambert de Ganay holds a BA in International Relations from the University of San Diego and an MSc in International Strategy and Economics from the University of St. Andrews. There, he was Chairman of postgraduate staff-student committee for the School of Economics and Finance and the head coach of the University's women's rowing program.
About Kidsave  
Kidsave, a nonprofit 501(c)(3) charity, helps older children and teens living in U.S. residential facilities, foster homes, group homes, and orphanages overseas, find loving parents and lifelong mentors through our unique Family Visit Model.  A volunteer driven-effort, Kidsave works with governments and communities worldwide to see that no orphan or foster child is forgotten, and every child grows up in a family with love and hope for a successful future.
Contact: 
Lauren Davis
Laurend@kidsave.org
202-503-3101