Making Connections Via Kidsave's First Virtual Event!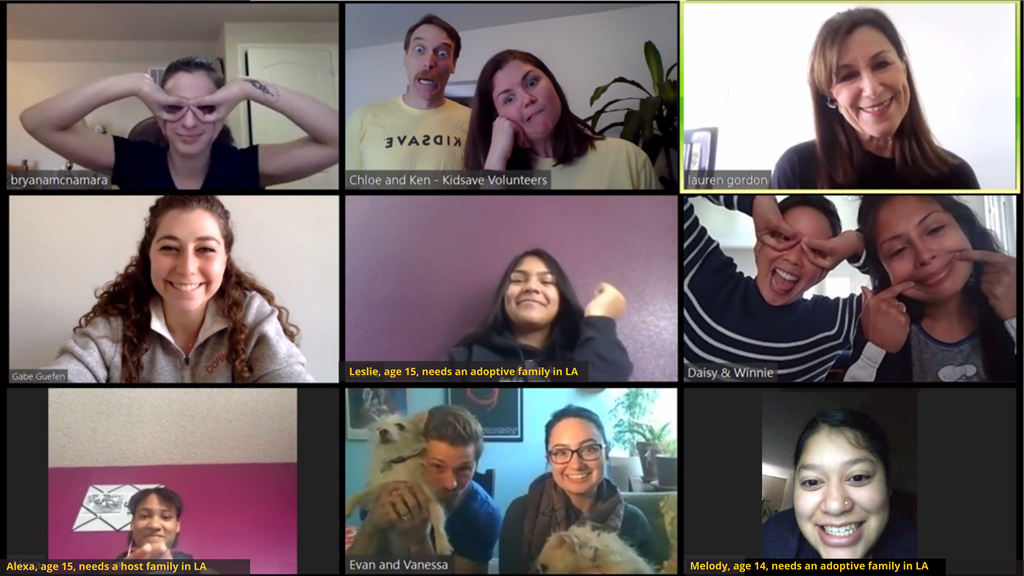 During the COVID-19 quarantine, foster youth and families are not able to meet one another in person at Weekend Miracles events. We knew it was vital to find a way to develop potential connections, so on Saturday, April 4th Kidsave hosted its first virtual event on Zoom — video conferencing! Weekend Miracles youth joined the meeting to get some much-needed time with prospective host families. Foster youth, Alexa, Leslie and Melody were able to speak with families interested in hosting and adoption: Daisy & Winnie, Vanessa & Evan, and Gabe.
After everyone was connected via the Zoom meeting, families and youth took turns telling each other where they would like to be and what they would like to be doing if we were not all in quarantine. Alexa expressed her love for travel and her wish to visit Japan because she is intrigued by their street culture. She would also like to visit Italy. She looks forward to being able to skateboard again.  Leslie talked about her "cabin fever" and her wish to be able to spend time at the mall with her friends again, taking photos and having lunch at the food court. Melody would LOVE to have the chance to see the new Mulan movie.
During the Zoom event, everyone played a fun game of trivia. During each round the kids were sent to virtual 'break-out rooms' where they had the chance to spend time with individual families where they had a chance to get to know each other. During the 'break-out' session, teams collaborated on the answers for a variety of trivia questions that included categories like sports, geography, celebrities and more! After each round, the answers were revealed, and teams tallied up the questions they got right.
At the end of the trivia game, everyone said their goodbyes, and the kids were assisted in completing their evaluation forms; the adults completing their forms privately. The evaluation forms enable Kidsave to connect youth and families who are interested in getting better acquainted to continue to get to know one another at future events.
Our first virtual event was a great success! Everyone had a good time, and the youth expressed that it was fantastic to have the chance to speak with the families and participate in a fun activity!
We are looking forward to our upcoming virtual events!