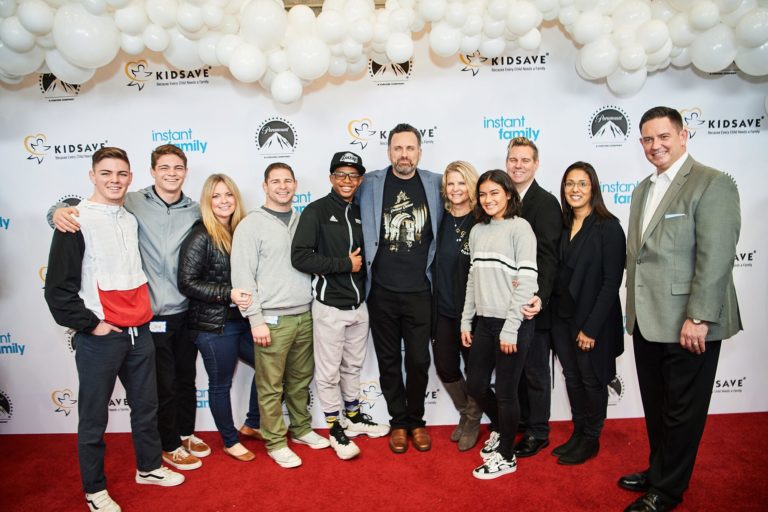 Paramount Pictures hosted a Kidsave Weekend Miracles event on the studio lot this month, giving interested families and older foster youth an opportunity to engage and connect through fun interactive activities.

The event was kicked off by Sean Anders, who wrote and directed the film Instant Family, which was inspired by his real-life experience adopting three older children out of foster care.  Anders, actors Tig Notaro and Julie Hagerty, Kidsave CEO Randi Thompson, Los Angeles County Department of Child and Family Services Director (DCFS) Bobby Cagle, and LA foster youth walked the red carpet and participated in media interviews.
LA foster youth and interested families got to know each other better over fresh-baked, brick-oven pizza, a fun scavenger hunt on the lot, and completing silly, funny tasks together to complete their "missions." Laughter filled the studio as the youth and families watched the video recap of the hunt.
Kidsave extends a heartfelt thank you to Paramount Pictures, to Jennifer Lynch, Brenda Ciccone and the entire Paramount volunteer team for helping put smiles on LA foster youth faces. Kidsave thanks LA DCFS Director Bobby Cagle for his support of Weekend Miracles as well as Sean Anders and the talented crew and actors who made this engaging film possible.
Watch Event Highlights!
"What's so special about this movie is that Instant Family helped bring awareness of the needs of older children to find permanent families. It showed — in a hilarious and heartwarming way — that older kids can make family connections and succeed in families," said Kidsave CEO and Co-Founder Randi Thompson. "And while it didn't pull any punches on the challenges — both for the parents and the kids — you leave the movie having laughed until you cried and with an overwhelmingly positive feeling about the potential for older orphans and foster youth kids in families."