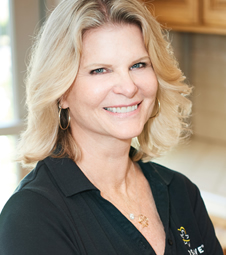 From Kidsave's CEO and President, Randi Thompson:
When we were approached about the A&E documentary series, "The Day I Picked My Parents," we were thrilled to have the opportunity to showcase our Weekend Miracles program, designed to shine to a light on older, harder to place kids in foster care. Kidsave gives older kids opportunities to meet and get to know people in the community rather than have them matched without knowing the family first. And, we give kids a voice and choice in who they get to spend time with and ultimately for some, who becomes their permanent family.
It's humbling to know that the model Terry Baugh and I began more than 20 years ago has gained national attention from a television audience of more than 1 million people! In five, hour-long episodes this series was able to capture the essence and day-to-day realities of our program and the foster care system. It showed in action, why we work so hard to ensure the best possible outcome for our kids. 
The experiences of the 10 unique and amazing people in this series display the realities of life for older kids in foster care. It also shows the wondrous transformation that happens when they connect to families who invest time and care for them and their future. The hope and love that radiates from teens like Angelicia when her host Cynthia took her camping, or the gratitude and joy Ty felt when he spoke to his family and friends at his 18th birthday celebration, is truly the motivation behind our model. 
These moments also deeply resonated with viewers around the country. We received rave reviews from our supporters, people who are interested in bringing the program to their area, and child welfare professionals who hope to adopt the model. Equally important, so many people have called and written who were channel surfing and stumbled upon our show, only to binge all five episodes in one sitting to say, "how can I get involved – how can I make a difference, too."
 Reporters, viewers, and professionals have approached us to ask us about our "secret sauce," the reason our program succeeds for these kids. We tell them:
Our program is youth-paced and youth-centered. Empowering kids to have a say in their futures makes an enormous difference to their investment in the process and increases their willingness to participate.

Our events are ONLY for older kids and structured so everyone gets to meet. No one is left out. Both kids and families are often surprised at the people they find they want to get to know.

We shift the focus from how the kids present on paper and any negative histories, to building genuine relationships that often outweigh the past. Issues that may have been barriers for families become challenges that they want to help the youth overcome.

Because hosting and mentoring is a smaller step than committing to adoption, more people — both kids and adults alike – are willing to take the first step. 

We create a supportive community – both for the kids and the families who are going through the process. Those community relationships, developed through participation in training and our events, continue to provide support long after kids and families leave the official program.

Our team and volunteers are responsive, supportive, and invested in the success of the host and family relationships that form.
We are honored to help kids find the families they deserve. We also can't do this work without your support. We ask that you help us spread our model. We are building out our weekend program in Texas, a state that is second only to California with the number of children in foster care. Could you contribute to our work there? Donate today to Weekend Miracles Texas.
 And if you haven't watched "The Day I Picked My Parents," what are you waiting for? Click Here and tell us what you think!
Warmest personal regards,
Randi